Long Road Home — Show Summary August 18
AGTV's August show centered around the theme "Long Road Home."  It featured stories of people who avoided shortcuts, prolonged the inevitable, and became sidetracked by the unexpected.
20-years after dropping out of college, Laurie made it a personal goal to finish her degree. In her story, Laurie recounted events of her past that led her to drop out of college. She described being forced to revisit this history as she re-enrolled for the few remaining credits standing in the way of her degree.
Dave Schumer described his participation in the "Back-to-the-Land" movement in the 60s and 70s.  After moving to the Ozark Mountains, Dave built his own house and lived off the land. When his wife died years later, Dave realized that the land provided him much more than food and shelter.
Growing up wasn't easy for Sea Gabriel.  An outcast of her family, she left home at an early age and eventually pursued a career as a Shaman.  Sea describes returning to her family after 20-years without contact and how her connection with spirits help to draw the family back together.
Jackie Bailey concealed a family secret for decades and ultimately severed ties. Â Years later, she realized that concealing the truth would leave others at risk. Â Jackie decided to break the silence and told the positive and negative aftermath of her decision.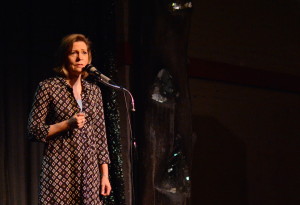 As a funeral director, Nora Menkin has presided over several services, but no service was more difficult than the one time that the deceased was her friend. Â In her story, Nora described the experience of making the final arrangements for the person she once knew.
Thanks for everyone who attended. Â See our show schedule for our next show!